Bob haircuts are very particular in their appearance and the addition of fringes or bangs can turn it around. Fringes are added to a bob haircut most times so that the haircut can fit with a ladies face shape. Before allowing your stylist to give you that bob haircut, find out by the ling whether you want a bob haircut with fringes or bangs. You can always choose a bob haircut that is without fringes. When choosing whether or not to get a bob haircut with or without fringes you must consider the following:
Hair color;
Facial features;
Face shape.
There are many bob haircuts with fringes such as:
Classic Bob with feathered fringes
The hair is cut in a single length to the desired length anywhere between below the ear to barely touching the shoulders. Add a few soft fringes that flow not beyond the eyebrows and this bob haircut is perfect. It is more suitable for women whose face shape is heart or round like you can see here. It works very well with light hair color with a fine texture.
Wavy Shaggy Bob with tapering fringes
When you have naturally wavy hair or if you have straight hair and enjoy adding waves to it, this awesome bob with fringes is the best for you. The hair is cut to neck length and multiple layers are added. A soft fringe is dropped down your forehead for that classy finish. This haircut is suitable if you want to draw attention away from your face shape.
Soft fringes with a Short Bob Cut
This is a classic style that is common to royalty due to its ability to bring out a dignified appearance. It clearly brings out facial features and draws the right attention to you.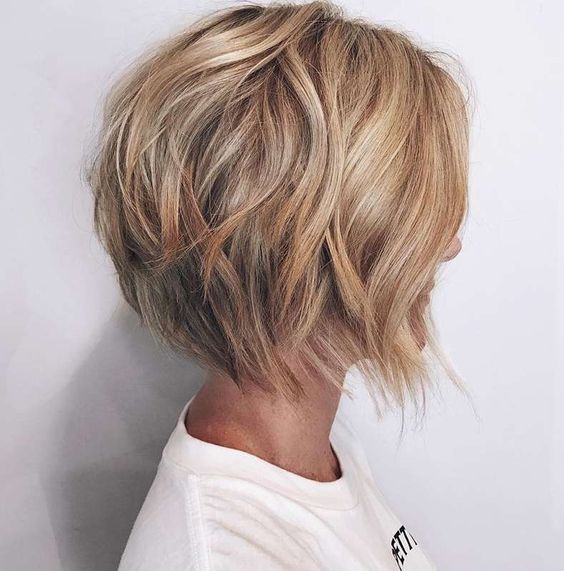 The classic bob
This is an amazing way to keep your bob haircut simple and low maintenance and it has no fringes. It is suitable for women who are seeking to show off their amazing facial features. This haircut favors all women from fine to rough texture and is suitable for all hair colors – check it on the site.
Short Inverted Bob
This haircut is as long as to the cheeks and is perfect to bring out the sassy in you and make the eyes pop. It works best with layers and you can choose between a side part and the middle part. This is one of the short bob haircuts that goes very well with fridges or without and still give you that wow look. This haircut is also suitable for any hair color and will always look good in a double tone, lowlights or highlights. It is most favorable with fine hair and you can always add a suitable relaxer if your hair is of the rough texture if you want the best from this haircut.
Bob with or without fringes is an amazing timeless haircut. The presence or absence of fringes will mostly be determined by the features you want to illuminate on and those you wish to take attention away from.